Here is the process of ordering online via the SeeVirtual Realtor Store.
This will give an overview of How to get to the Online Realtor Store, How to navigate the Online Realtor Store and How to place an order with the Shopping Cart Tool.
Before reading through the steps below, you can watch this video walking you through the entire process:
How to Get to the Online Realtor Store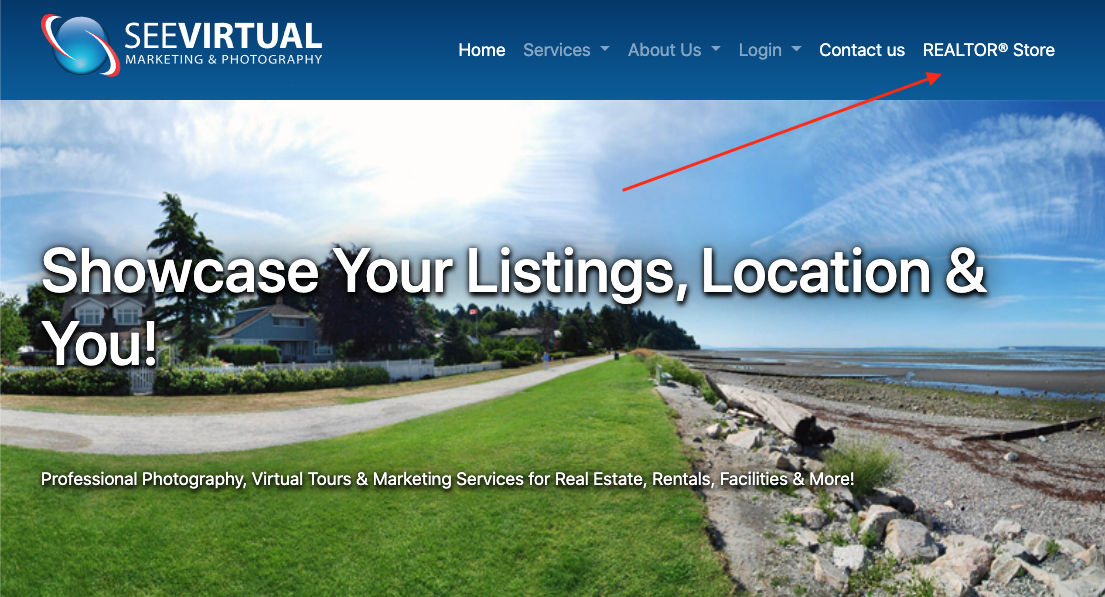 Navigating Our Online Store
At the top of the Store Front Home Page the current promos or discounts will be posted in red.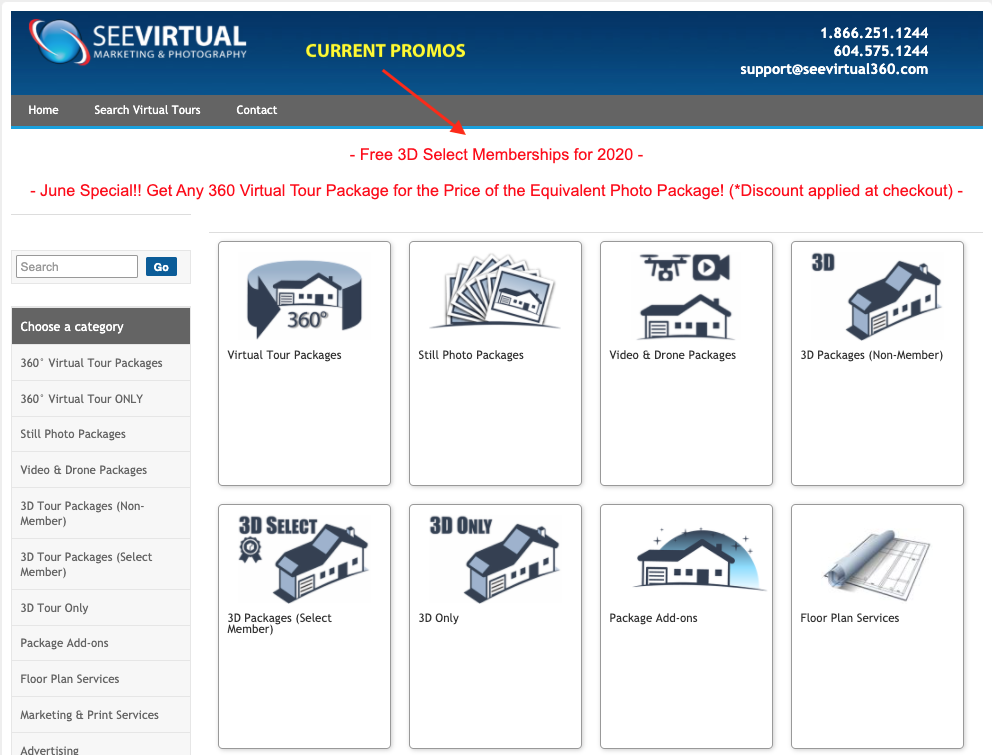 All of our products are categorized by package Type and by Square Feet

"Choose a Category" organizes all the packages and add-ons by type

eg: 360 Virtual Tour or 3D (Matterport) Tour or Package Add-ons such as 4-Page Feature Sheets

Packages in each Category are organized by listing size (sqft) from top to bottom and singular or bundle packages from left to right.

eg: Condo360 Package is our smallest 360 base package and is located at the top left corner and to the right is the bundle package with measuring. Both packages also offer a high end version.

If you can't find an item use the "Search" bar

For Example, you can search "floor" to find all our floor plan upgrades
For more information on products and add ons, click any of the packages to see examples and package details.
Navigating the Shopping Cart
To add an item to you cart, click inside the package and hit "Add to Cart". This will add the item and take you to your cart.

If you aren't finished shopping hit "Continue Shopping"

To return to your cart click "View Cart" at the top of the page

Other items you may wish to order will be suggested under your cart. This feature allows you to quickly add items you may want without having to navigate back to the storefront.
If you have added an item twice or wish to remove any items you can make adjustments to your cart:

You can Change the Quantity of a particular item from 1 to 0 (or 2 to 1) and hit "Update" under the qty box for that item

Under the description for the item click the "Remove" button to completely remove the item from your shopping cart.

Once the cart has the items you want apply any promo codes you may have
Scroll past all the suggestions and fill out the Contact form

Provided the contact(s) we can book the appointment with

Enter the Listings Location

In the Special Instruction box let us know if you have a preferred date you want the booking or any other extra information (eg: Vacant lot) or if there was a particular item you wanted to add to your cart but couldn't find it on our store.

Check out

If you aren't logged in it will promote you to login in our create an account

Once logged in it will take you to a secure page to enter your Credit Card information and confirm your order

The order will be sent to our team who will then assigned it out to the photographers and field technicians who will then coordinate their schedules and call you back to confirm the date and time of the appointment